Services
We offer services and treatment plans tailored to meet your unique hearing needs. From comprehensive evaluations to custom hearing aid fittings, our staff combines years of experience with state-of-the-art technology to find the best solution for you.
Hearing Tests
Hearing Testing and Evaluations
Choosing the right hearing aid starts with a clear understanding of your unique hearing loss needs. Our advanced testing procedures accurately identify whether or not you have hearing loss and measure the type and severity.
A Diagnostic Audiologic Evaluation is a series of tests that determine if you have hearing loss, and if so, to what extent. The tests are chosen based on your age, symptoms and medical history, allowing your provider to tailor a treatment plan for your specific needs.
More on Diagnostic Audiologic Evaluation
If you suspect a hearing issue, a hearing test is your first step. It will determine if you have hearing loss and outline the extent and specifics. Your provider will use this information to tailor a treatment plan to your needs and get you on the path to better hearing.
More on Diagnostic Hearing Evaluations
Hearing damage is a real and unfortunate hazard if your job frequently exposes you to loud noises. Hearing evaluations can help identify early signs of hearing loss, and industrial screenings play a key role in keeping working environments safe for employees.
More on Industrial Hearing Testing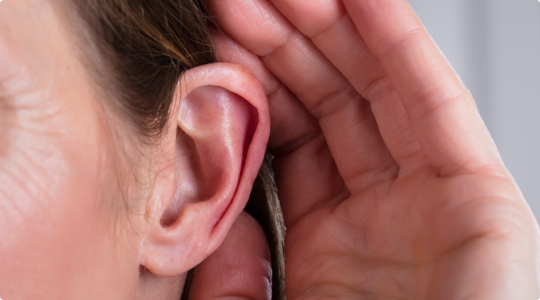 Online Hearing Test
Think You Might Have Hearing Loss?
Take our free, 5-minute online test to get a better understanding of your hearing health. It can determine if a professional screening is right for you.
Our Process
Finding the Perfect Match.
Hearing loss looks different for everyone, and as a result, there are a number of hearing aid varieties on the market. Through careful evaluations and custom fittings, we'll help you find the best device for your hearing loss needs.
Hearing Aid Services
We Service Your Devices
From hearing aid screening, selection and fittings, to ongoing maintenance and repairs – we offer a wide range of services to keep your hearing aids performing their best.
Once you've chosen hearing aids, the next step is to get them fitted and working just right. Your provider will walk you through proper care and maintenance, as well as make adjustments to ensure you're getting the most from your new device.
More on Hearing Aid Fitting
Life happens, and wear and tear on your hearing aids is normal. If your device isn't functioning properly, bring them in to have them assessed. Whether it's physical damage or aging parts, your provider can address the issue and get you back to better hearing.
More on Hearing Aid Repair
Live speech mapping uses advanced technology to make fitting appointments more interactive and accurate, helping optimize your hearing aids for your specific needs. It can cut down on "trial and error" and reduce the number of office visits needed for adjustments.
More on Live Speech Mapping